The Story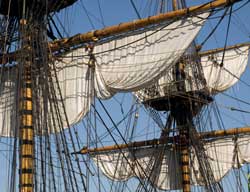 "The Great Blasphemer"
John Newton was a troubled young man. His mother died when he was young, and his merchant marine captain father was often away on voyages. Trouble in school led his father to take him to sea at age 11 -- and then to arrange a place for him on another ship. But his rebellious nature grew even worse - at sea he was whipped for desertion, called by his shipmates "the Great Blasphemer," and led a mutiny.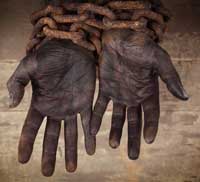 A Slave in Africa
Newton was left in Sierra Leone and became a servant of a wealthy slave trader's African wife. He was eventually rescued by a man sent by his father to purchase his freedom. Freed from slavery, he got a commission to serve as first mate on a slave ship, and later earned the rank of captain of his own ship. During his career he transported thousands of Africans to lives of slavery in America.
Amazing Grace
On his voyages, Newton read the spiritual classic Imitation of Christ by Thomas a Kempis. The spiritual lessons of childhood began to come back to him. During a terrible storm at sea, Newton felt the presence of God and discovered what he would later call "amazing grace." He eventually left the slave ship and pursued ordination in the Church of England.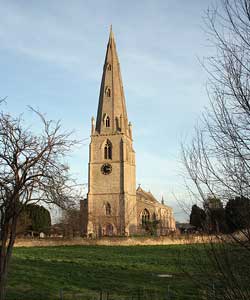 Innovative Ministries
Newton finally won his case for ordination and became pastor in Olney, a poor village in England. There he started a new children's ministry and began writing stirring hymns that spoke deeply to the ordinary people. Partnering with poet William Cowper, Newton published Olney Hymns, a collection of hymns that included Amazing Grace, the hymn which was his own spiritual autobiography.
Abolitionist
Newton accepted the call to serve the Parish of St Mary Woolnoth in London, and there befriended William Wilberforce. He encouraged Wilberforce in the fight to abolish the slave trade, and was hugely influential in the abolitionist movement.
Newton's epitaph, which he wrote prior to his death, is engraved on the wall of St. Mary Woolnoth Church in London and on a memorial marker in Olney Parish:
JOHN NEWTON, CLERK,
Once an Infidel and Libertine,
A servant of slaves in Africa ,
Was, by the rich mercy of our Lord and Saviour
JESUS CHRIST,
Preserved, restored, pardoned,
And appointed to preach the Faith
He had long laboured to destroy,
This is a story of grace, faith, and a broken life made whole that has a message for our world today. Hollywood will not make this movie, but we will ... with your help!